Caps and Masks! Keeping us busy and in touch with what's important.
As the COVID-19 pandemic invades NYC we find our lives have changed dramatically. We are confined to our homes, our non essential shops, gyms, movies and malls have been closed. In our little world, we had to temporarily close our shop - as we are not an "essential business". In fact all of our fellow merchants closed their shops too – except for the pharmacist, the liquor store and food establishments. Our thriving corridor is now quiet. So sad!
So, we came up with a plan of action - we divided up work that we could do from home. We decided to use this time to enhance our website, to expand our social media reach and to create videos on some of our best-selling gifts. We figured out what our procedure will be when we get online orders, how we would process them and ship them out. Just as we started on our mission…. we received a call for help. Our local hospital, located just a few blocks from our store desperately needed face masks for the staff. Just like that we were making calls, sending emails to find out how we could help.
In the meantime, my daughter, a nurse in NYC, asked if we would make her surgical caps for herself and her colleagues. With all their equipment on and moving around they found that the caps the hospital gives out were falling off easily and they didn't want their hair exposed to the virus. So, why not? We have time on our hands and a shop full of fabric. We got started - we found a pattern and a few different videos and got sewing! My daughter got right in there and wanted to sew.
And what cute caps we made! They were so well received! The nurses loved them - it was a bright spot in their day. It is great protection for their hair and they realized it was a great way to easily recognize each other. Since their uniform is now a long protective coat, a face shield, a mask and a cap… it was hard to recognize who was who. Now each nurse has their own pattern and it's become easy to recognize each other. So we shared some photos on social media and soon so many nurses were asking how they could buy some. This is a donation we said - a way to show our great appreciation for all they do. These people are putting their life on the line to save others. So we just kept on sewing! It's been so rewarding and so great to get people smiling a bit.
While we were knee deep in surgical caps, we received a call back from the hospital to come pickup supplies. By this time, we put it out to people that we are making caps and waiting on mask materials for the hospital. Dozens of people responded ready to help. Quickly we divided materials and conquered! Finishing 100 masks in just 2 days. Once we drop off – we pick up more and start again.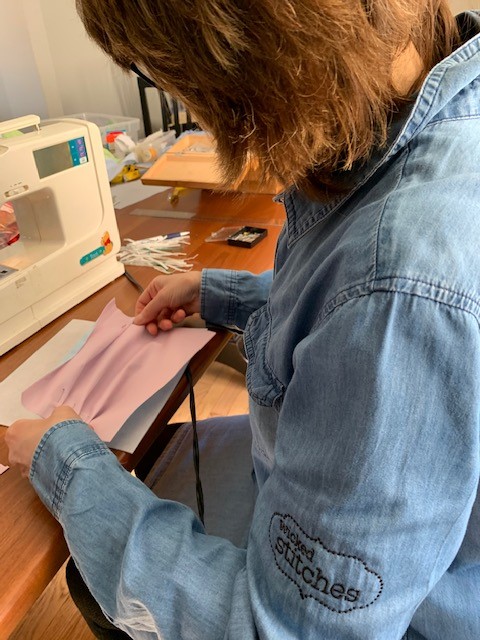 It's so nice to be part of the solution. There is a real sense of satisfaction to helping. The sense of community is heartwarming. I find myself talking to people several times a day that I didn't even know just two weeks ago. You learn so much too, so many people volunteer and put themselves out there for the greater good.
It's a wonderful thing to immerse yourself in your neighborhood. I highly recommend it. Support your community – you really do get a lot out of it.
In case you wanted to create some caps for your nurses or hospital staff – we can mail you a pattern. We found a pattern online – but not having the correct size paper – made it a bit challenging. We had to size it, which I won't lie took a bit of time. Better with the sewing machine than math calculations.
Send us an email : info@wickedstitchesgifts.com with your address and we will mail you a copy of the pattern.
Here is the youtube video we used for instructions: https://www.youtube.com/watch?reload=9&v=mb9SnhhdcFM
This is where we purchased the pattern (the person above purchased her pattern here also):