Thankfully, Phase 4 has arrived! We are so excited to be back in the shop, even though it's with limited hours – four days a week. We hope to be fully back by September 1st. Covid-19 has been a clever opponent but thankfully we are smart cookies.
Here's what we learned. People want normalcy. People want to be able to shop with ease! Easy ordering with delivery or pickup. Most importantly people want to stay connected to loved ones.
Here's how we can help.
Customers want to talk to us via text, phone, email, and social media messaging. Some people are not 100% comfortable coming out to shop yet. So, we made it easier for customers to reach us any way they want. We offer a texting only service, updated our website and social media pages to be able to communicate effectively when we work remotely and when we are in the shop.
Once they place their order, we offer in store pickup, curbside delivery, shipping and local home delivery.
Staying connected in the world of Covid-19 is tricky! But people always find a way!
Remember with no Easter Dinners, no Mothers Day, no Fathers Day, forget the Class of 2020. It was hard to -see a bright spot. But we found that our customers went out of their way to make celebrations during Covid extra special. Everyone was craving normal! From the Quarantine birthday tees for birthday parades to the dozens of new baby gifts - we found that people wanted to take part in life's celebrations!
We used our Covid downtime to do some great work. We created a line of great Graduation Gifts. We re-created our Baby Line and came up with some of the nicest baby gifts out there.
With Brides scrambling to re-schedule their weddings, showers or engagement parties. We are helping them re-do their I-do's; we are making new pillows and wedding dress labels with the rescheduled dates.
Like I said, people find a way to stay connected. We are thankful because that keeps us busy and productive. We have done some of our best work during Covid. We began this journey sewing surgical caps for front line workers and have come thru with a better line of custom gifts. We move forward with hope for health to be restored and people to get back to life!
So, stay connected, even if you cannot be there. Or if you can see that loved one to celebrate that special life moment – wash your hands, wear your mask, and enjoy that time together!
Here are a few highlights from our favorite gifts made during Quarantine:
1. You can recreate this spectacular baby gift easily on our website.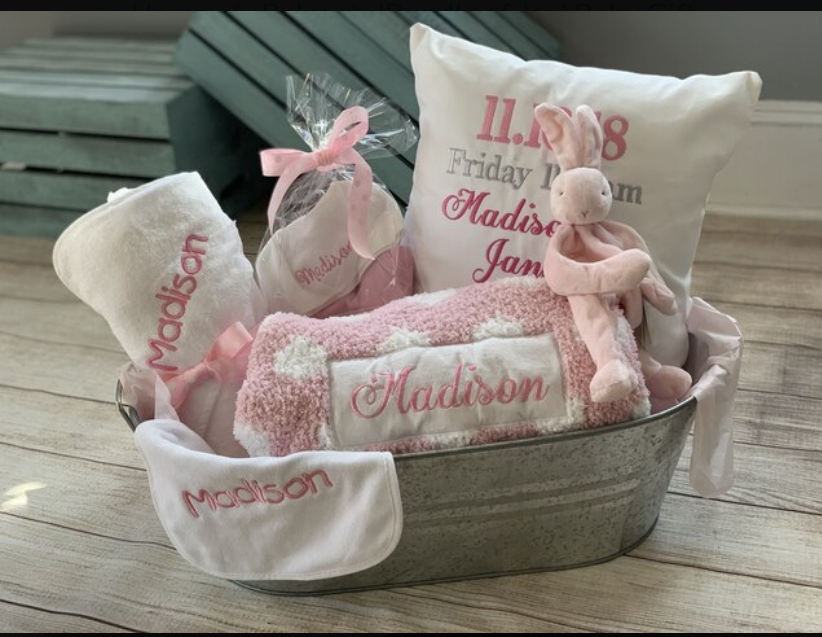 2. Build a great graduation gift from our collection of personalized dorm essentials!
3. Wedding Dress Label - Classic and favorite! Why was it a favorite of ours? We thank God that there were still great things to celebrate and our customers did too! We sewed so many bridal gifts during Covid and this still remains our most heartfelt Bridal Gift.